If your kids like spiders or not, they'll love this fun 8-legged breakfast treat. Older kids can appreciate the detailed fractions in step 2 also!
Fill this morning with nutrition, fun AND education! Throw in a glass of milk and award yourself "Awesome Mom of the Day."
And don't forget to share how it went in the comments!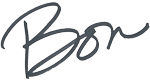 Contributed by Bon Crowder, math mom and education fanatic, who helps grown-ups see math in their everyday world so they can help their kids have a positive attitude in math.
Check out her blog MathFour.com for various articles on math learning. Or head over to That's Math to see more specific ways to see and say math using everyday things.